Stars are one of the most popular shapes, especially when it comes to crochet. You never know when a cute tiny crochet star may actually be useful.
Perhaps you're wrapping presents and need a little extra special something to throw on top. Maybe you're looking for a quick and easy decoration to make out of leftover yarn. Or perhaps you just need a smile…for yourself or for visitors to your home.
To help you out, we've hand-selected the very best star crochet patterns available to purchase on Etsy right now! We've included a huge array of projects from Christmas tree decorations and festive garlands to pillows and plush toys – so there's bound to be something here for you. Let's dive in!
These stars are perfect as a wall or dangling decoration, Christmas tree ornaments, or garland embellishments. They could even be used as charming extra decorations to add to Christmas presents. Your family members will undoubtedly enjoy these!

The stars can be strung over the baby's crib or used as a nursery ornament. Crochet just one star or 2 stars, stitch them together, then fill to make a 3D dangling decoration. Including the filling, you can include cloves and nutmeg, as well as any other plants or spices that evoke festive feelings.
This is the ideal present for a new mother and baby.  It would be fantastic if you could make it as a baby shower present. As the infant grows older, he or she will enjoy stroking and comforting themselves with the popper stitches but will most probably keep it with them for many years.

The total size is generally 27″ x 34″. This pattern is worded in American terminology, and there are numerous illustrations to help you along the way. When you purchase this pattern, you will receive an instant download link via email.
We can't get enough of these adorable crochet star-shaped bunting. You can make your own using this pattern and they work great hanging above a crib in a nursery or draped around a Christmas tree for an extra touch of festivity.

Each star measures roughly 2.5 inches and the finished product is 53 inches in length in total. However, you can always repeat the instructions to make as many stars as you like. This pattern is written in standard US English. 
RELATED: Fun Amigurumi Turtle Patterns That You Can Download And Make Right Now!
Make this crochet star wall hanging in a little under an hour using super puffy yarn and a hook; with 3 basic rounds, you'll have it finished in no time. This design does not feature any diagrams and has straightforward, easy-to-follow written directions.

Because the pattern is presented in American crochet terminology, some basic stitching expertise is required. The finished product is roughly 9 inches long.
How adorable is this star cushion? These instructions will help you to create your own, complete with fairground-style stripes and finished off with pom tassels for extra decadence. This is a crochet star pillow pattern in pdf format.

The cushion is influenced by fairground rides and maybe constructed with or without bobble edging. The design is written in British English. The pillow is 45cm long and made of DK yarn. It is necessary to have a basic understanding of crochet and printed patterns.
It's simple, sleek, and gender-neutral design makes this blanket a beautiful and one-of-a-kind first birthday or baby shower gift! Because of the printed size, it can be used as a safety or comfort blanket far into toddler years.

This template contains a special, advanced stitch counting series that reads much like a chart pattern and makes creating this pattern a breeze because all of the boring and repetitive work has already been done for you. The finished product is roughly 31 by 37 inches in size.
The pattern is a step-by-step guide in English (US terminology) with full illustrations. The star's front and rear sides are identical. The pattern is the foundation, and it's up to you to choose your own color scheme.

It is also appropriate for all crochet enthusiasts who are familiar with the fundamentals of the craft. This pattern includes a glossary of crochet terminology in seven languages: English, French, Dutch, Spanish, Italian, and German.
How cute is this tiny little star garland pattern? Well, you can make your own thanks to this handy pattern! They're super understated and delicate, making them perfect for use in a child's nursery or as a festive decoration for your home.

You could even make multiple stars and attach them together to make a celestial garland! This pattern is written in standard US English and is suitable for those with some basic understanding of crochet terms and stitches. 
This pattern is extremely simple and quick to sew. It's an excellent project for a novice to learn from. This pattern makes use of simple beginner stitches.

It also includes instructions for making your own cushion insert, which is voluntary but highly encouraged! Because this cushion has wider holes, you may add a bit of flair by matching your material to your yarn.

This provides a charming peek-a-boo effect. This pattern is written in US terminology but also comes with UK abbreviations to make it more accessible. The finished product measures approximately 14 – 15 inches in size.
RELATED: Easy Crochet Bookmark: Perfect Project for Beginners
We're obsessed with this adorable star blanket, and we're sure that you will be too! The finished product is a star-shaped blanket with a striped design complete with plenty of colors.

However, as this pattern is super-easy to follow, you can easily modify the design and choose the colors to suit your preference.

This makes a perfect baby shower gift or as a present for a friend with a new addition to their family. The finished product measures 38 inches in length and 96.5 cm in diameter. 
We love how unique this star cushion pattern is, and it looks great in any nursery setting. The finished product is a sleepy star plushie complete with a night hat, blushing cheeks, and a smiley face.

It could make an excellent present for newborns and infants. It will make an excellent nursery decoration for children's play. Using the provided materials, the pillow's height is roughly 30 – 32 cm.

It is determined by the tension with which you crochet. This pattern is appropriate for beginners, but you must have some basic knowledge and experience with crochet stitches.
This is a comprehensive pattern for a lovely star-patterned comforter. The pattern includes both clear instructions and numerous grids.

The pattern is highly adjustable; as long as you have more than enough yarn and time, you may make it in any size you like, although the final size for the primary blanket is roughly 150x120cm.

The entire thing is done in tapestry crochet, which necessitates a significant amount of yarn for the enormous blanket but is easily customizable to make a baby-sized quilt.
This simple crochet tutorial demonstrates how to construct a Christmas Star Ornament out of an old sweater! Repurpose an old  Christmas jumper into a meaningful star ornament for your tree or to give as a present to relatives and friends. To personalize it, add small words like joy, love, or even a Monogram.

The only instruments required are scissors, needles, and a crochet tool. A pdf file with yarn options is provided. The downloadable document includes images to help you along the way, as well as video tutorials. This pattern is equally appropriate for beginners.
You've come to the perfect place if you're seeking an excellent and fashionable star cushion! We provide this full step-by-step blueprint, complete with numerous photographs and excellent explanations.
This cute pillow is ideal for nursery decor or any other style of home design. It would also make an excellent housewarming or Christmas present.
This star cushion can be a brilliant highlight in your home décor or it can simply blend into your boho decor if you choose pastel hues.
Crochet PDF pattern for a gorgeous star pillow with step-by-step instructions. Using cotton T-shirt yarn, you can quickly crochet a trendy and attractive star pillow for a nursery or any space in your home.
RELATED: Crochet The Amigurumi TikTok Bee
These crochet star patterns can help you create your own crochet stars. If you purchase this pattern, you will obtain five different-sized patterns. The merchant created all of them.
Every pattern has a distinct size, and if you use unique yarns (for example, thick yarn), the shape choices are limitless. Examples of what to do with those patterns can be found in the images included with this item.
We couldn't make a list of the best star crochet patterns without including this gorgeous garland from FloAndDotShop on Etsy. We love how colorful it is and the beautiful addition of rainbows makes it stand out from the crowd.

Make a garland out of the mini rainbows or put them into a keychain or scissors fob/needle keeper. The pattern is composed in British English. It is necessary to have a basic understanding of crochet and textual patterns.
We adore this Christmas tea light holder, and we believe you will as well! It adds a bit of luxury to any home, especially around the holidays, and will go perfectly with the rest of your festive decor.

It also includes extensive step-by-step directions written in English, American crochet jargon, with tutorial photographs displaying the threads row by row, making it much easier to deal with the pattern.
This Crochet snowflake ornament pattern is simple and enjoyable to make. These crochet snowflake patterns will make you appreciate the beauty of winter.

These patterns are one-of-a-kind and were created by the vendor. You may make these snowflakes with any size cloth or yarn. The size of the snowflakes is determined by the thickness of the yarn used.

After you've crocheted your snowflake, you can adorn it in any way you choose. You can embellish with glitter and beads. This snowflake can be used as a Christmas tree decoration, like jewelry, or to adorn your home in different ways.
Are you the patriotic type? If so, then this may be the perfect star crochet pattern for you! The final result is a red, white, and blue striped star cushion that looks great in any American enthusiast's home.

Each step of the instructions comes complete with detailed photographs to help guide you through the process. The finished pillow will measure approximately 20 inches in size, perfect for brightening up a living room couch or a bed setup.
With this beginning crochet design, you may make your own starfish. To make this starfish, you'll need to know how to make a magic ring, single crochet, increase, and half double crochet.

This pattern has dozens of positive reviews from happy customers who state that it's a beginner-friendly design and can be made in less than half an hour! 
You'll soon be crocheting stars of all shapes and sizes, as well as an amigurumi moon, thanks to this detailed pattern! 

This instructional series will show you how to crochet 6 stars in alternate sizes and shapes, how to stitch them together to construct toys, and also how to create an amigurumi of a happy moon!

This pattern is created with beginners in mind and requires no basic knowledge or experience of crochet and stitches.
This is a bright, vibrant, and attractive design. Throughout those winter nights, you will be able to discover, enjoy, and, of course, cuddle in a blanket full of stars.

It mixes traditional granny-style designs with funky modern stitching. The finished blanket will measure roughly 124 x 120 cm in size, perfect for both adults and children. 
Create your very own Stella the Starfish. The pattern is simple to follow, fast to make and illustrated. You can customize them to create them in any color you choose, but we really like how adorable the pastel colors look.

The finished product measures approximately 15 cm but this will depend on what type of yarn you choose to use.
We love how adorable these tiny crocheted starfish look, and think they would look great in a child's nursery or work well as a birthday gift for an infant or new mother.

According to the product reviews, this pattern is super easy to make and is even suitable for beginners with limited knowledge of stitches and crochet techniques.

It's also easily modified to suit your color and size preferences. The seller urges you to reach out if you have any further questions.
RELATED: 13 Stunningly Beautiful Hooded Scarf Crochet Patterns
We love this novelty star toy pattern and think it would look great integrated with the rest of your Christmas decor. The finished product is a stuffed star figurine, complete with striped stockings, green boots, and a festive Santa hat. It will certainly brighten up any home.

The crochet pattern comes with12 pages of instructions as well as 14 illustrations that demonstrate how to create the Stargirl crochet toy. If you get stuck, you will receive unlimited email assistance from the seller after you've made a purchase.
Frequently Asked Questions
How Do You Read A Crochet Color Chart?
Unless otherwise indicated, scan the odd-numbered columns from side to side and the even-numbered columns from left to right when viewing a graph.

You interpret the graph in this manner since you execute the first row after the foundational link from the right to left and the back row from side to side.
How Do You Crochet A Star?
You'll begin with a circle and put solitary or double crochets into it. To make each of those star points, perform a succession of simple crochets, double crochets, and triple crochets with such a picot stitch in the next round.

The stars consist of simply two rounds, with the sole distinction being the starting round.
Is Crocheting A Star Difficult?
The answer to this question will all depend on the type of pattern you decide to follow. If the pattern explicitly states that it is suitable for beginners, then it should be pretty easy to execute.

However, some patterns make use of more complex stitches. For these patterns, you'll probably require some basic stitching knowledge and experience.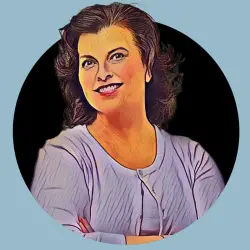 Latest posts by Amanda Brown
(see all)