The crochet world is as vast as it is intricate, with its charm heavily relying on the interplay of patterns, techniques, and, notably, the yarn itself. Just as a painter selects the perfect shade on a palette, choosing the suitable yarn can profoundly affect a crochet project's aesthetics, feel, and functionality. 
With the overwhelming array of choices in the market, from rustic natural fibers to sleek synthetics and blends, it's essential to discern which ones best suit your crafting ambitions.
Each yarn type brings a distinct texture, drape, and character to the table. While some yarns are perfect for cozy blankets and warm wearables, others excel in delicate lacework or vibrant amigurumi. Innovations and sustainable practices in yarn production have also introduced eco-friendly options, appealing to the conscious crafter.
This guide unravels five must-try yarns that have left an indelible mark on the crochet community. Whether you're a seasoned crocheter or just beginning your journey, exploring these yarns promises to elevate your crafting experience.
Importance Of Yarn Selection In Crochet Projects
Yarn selection plays a pivotal role in the crochet world, influencing a crafted piece's appearance, feel, functionality, and longevity. Here's why choosing the suitable yarn is paramount:
Texture & Aesthetics: The yarn's texture determines the tactile experience of the finished product. Whether aiming for a rugged, rustic feel or a smooth, delicate finish, the yarn's nature will be the defining factor.
Durability: Some yarns, like acrylic and specific wool blends, offer enhanced durability, making them ideal for items that require frequent washing or can experience wear and tear, such as dishcloths or children's toys.
Drape & Shape: Yarn choice influences how a garment hangs or fits. While cotton and bamboo often provide a soft drape, wool or acrylic might offer more structure.
Comfort & Functionality: For projects like baby blankets or summer tops, you'd prefer yarns that are soft against the skin and breathable. A winter scarf might benefit from the warmth of wool.
Environmental Impact: With increasing ecological consciousness, yarns from sustainable resources or recycled materials are gaining popularity. Selecting such yarns aligns with eco-friendly crafting values.
RELATED: 25 Useful Paracord Lanyard Patterns (Including Pictures)
Why Yarn Matters In Crochet?
In crochet, the yarn is the brushstroke, the medium through which art unfolds. Its significance cannot be overstated, as it defines the very essence of the crafted piece. Here's why the choice of yarn is so critical in crochet:
Texture and Feel: Different yarns impart varying textures. From the silky touch of bamboo-based threads to the rustic charm of raw wool, the string chosen decides the tactile experience of the finished item.
Durability and Longevity: The lifespan of crochet items hinges on the yarn's quality. While synthetic yarns like acrylic offer resilience, natural fibers like cotton and wool provide inherent strength and wear resistance.
Versatility and Application: Only some yarns are fit for some projects. Delicate lace patterns demand thin, fine threads, while chunky blankets require thicker, bulkier varieties.
Climate and Comfort: Woolen yarns are heat retainers, perfect for cozy winter wearables, while cotton and linen yarns are breathable, making them ideal for summer garments.
Aesthetics and Color Retention: Yarns differ in how they hold dyes. Some retain vibrancy after repeated washing, while others might fade, influencing the piece's visual appeal.
Sustainability: In an eco-conscious era, the yarn's environmental footprint matters. Biodegradable or recycled strings resonate with crafters who prioritize sustainability.
Different Types Of Yarn
Acrylic
Cotton
Wool
Bamboo
Alpaca
Silk
Cashmere
Mohair
Linen
Hemp
Rayon (often made from bamboo or other sources)
Polyester
Nylon
Angora
Merino Wool
Chenille
Tencel (Lyocell)
Soy
Raffia
Milk Protein
RELATED: 35 Brilliant Crochet Baby Bootie Patterns (With Pictures)
5 Most Common Yarn Type For Crochet
Characteristic
Softness and Comfort: Acrylic yarn is generally softer and less scratchy than some natural fibers, making it comfortable to wear against the skin.
Durability: Acrylic yarn is known for its durability, making it an excellent choice for items that need to withstand frequent use and washing.
Color Variety: Acrylic yarn is available in an extensive array of colors, including vibrant shades, making it easy to find the perfect color for your project.
Affordability: Acrylic yarn is often more budget-friendly than some natural fibers, making it a popular choice for large projects or beginners.
Allergies: It's a synthetic fiber, so it's generally hypoallergenic and suitable for people with wool or other natural fiber allergies.
Insulation: While it might not provide the same warmth as wool, acrylic yarn can offer good insulation, especially in thicker weights.
Characteristic
Breathability: Cotton yarn is highly breathable, ideal for warm-weather projects. It allows air circulation and helps regulate body temperature.
Absorbency: Cotton fibers can absorb moisture, making it a good choice for items like dishcloths, towels, or items worn close to the skin in hot weather.
Texture: Cotton yarn has a smooth, matte finish that is great for stitch definition, making it perfect for textured and lace projects.
Hypoallergenic: Cotton is a natural fiber unlikely to cause allergies or irritation, making it suitable for sensitive skin.
Structural Integrity: While not as elastic as some other fibers, the cotton yarn has good structural integrity, which helps prevent stretching and sagging.
Characteristic
Warmth: Wool is an excellent insulator, providing warmth even in wet conditions. It's a popular choice for cold-weather projects.
Elasticity: Wool is naturally elastic, which means it has a "bounce-back" quality that helps maintain the shape of your knitted or crocheted items.
Stitch Definition: Wool yarn has excellent stitch definition, perfect for cables, intricate patterns, and other textured designs.
Variety of Types: Wool comes from different animals (sheep, alpaca, etc.), each with unique characteristics. Merino wool, for example, is known for its softness.
Natural Fiber: Wool is renewable and biodegradable, making it an environmentally friendly choice for many crafters.
Characteristic
Eco-Friendly: Bamboo yarn is considered eco-friendly because bamboo is a rapidly renewable resource that grows without pesticides or fertilizers.
Softness: Bamboo yarn is incredibly soft and has a smooth, silky texture that feels gentle against the skin. It's often compared to silk for its luxurious feel.
Breathability: Bamboo yarn is highly breathable, making it suitable for warm-weather projects. It wicks moisture away from the body, keeping you cool and comfortable.
Anti-Bacterial Properties: Bamboo fibers have natural anti-bacterial properties that help resist odors, making them a good choice for items you may wear frequently.
Hypoallergenic: Bamboo yarn is hypoallergenic, making it an excellent option for those with sensitive skin or allergies to other fibers.
Drape: Bamboo yarn has a beautiful drape, making it ideal for projects that require flowing, elegant lines, such as shawls and lightweight garments.
Sustainability: Bamboo is a sustainable material, as it regrows quickly, helping reduce the environmental impact of yarn production.
Characteristic
Softness: Alpaca yarn is incredibly soft, often described as warmer than wool and smoother than cashmere. It's a luxurious choice for projects where comfort is a priority.
Warmth: Alpaca fibers are excellent insulators, providing exceptional warmth. Alpaca yarn is ideal for cold-weather projects, keeping you cozy without excessive bulk.
Hypoallergenic: Alpaca yarn is hypoallergenic and less likely to cause allergic reactions than other animal fibers, making it suitable for sensitive skin.
Lightweight: Despite its warmth, alpaca yarn is lightweight, which means it can provide excellent insulation without feeling heavy on the body.
Lustre: Alpaca fibers have a natural sheen that adds a beautiful glow to the finished fabric, especially in lighter shades.
Durability: Alpaca yarn is known for its durability, and with proper care, items made with alpaca can last for many years.
Variety: Alpaca yarn comes in various grades, each with its characteristics. Suri alpaca yarn, for example, has a unique, silky appearance and is often used for its luxurious texture.
13 My Favorite Yarn To Crochet With Brands
Description: Red Heart Super Saver is a beloved, all-purpose, worsted-weight acrylic yarn known for its durability and wide range of colors. It's easy to work with and maintains shape, making it an excellent choice for various projects.
Best Suitable for: This yarn is ideal for budget-friendly afghans that can withstand frequent use and versatile garments like sweaters and cardigans. It's also a popular choice for making amigurumi toys due to its vibrant colors.
Description: Lion Brand Homespun features a unique texture with subtle variations in thickness. It has a cozy, comforting feel and creates beautiful textured fabric.
Best Suitable for: This yarn is best suited for creating cozy blankets with a textured look and warm scarves that have a soft drape. It's also perfect for comfortable shawls, giving a rustic touch to your projects.
Description: Caron Simply Soft lives up to its name with its silky, smooth texture and delicate sheen. It's lightweight and drapes beautifully, making it a pleasure to work with.
Best Suitable for: This yarn is perfect for creating elegant tops that drape gracefully, delicate baby clothes that are gentle on a baby's skin, and lightweight accessories like scarves that add a touch of sophistication.
Description: Bernat Baby Blanket is a super bulky, chenille-style yarn that's incredibly soft and cuddly. It has a plush texture that's ideal for baby items.
Best Suitable for: This yarn is lovely for creating plush and luxurious baby blankets that are perfect for snuggling. It's also great for making cuddly stuffed animals and cozy baby garments, ensuring maximum comfort for little ones.
Description: Patons Classic Wool Worsted is a versatile 100% wool yarn known for its warmth and excellent stitch definition. It's a workhorse yarn that's well-suited for a wide range of projects.
Best Suitable for: This yarn is an excellent choice for traditional sweaters that will keep you warm in colder months, intricate cable work that showcases the stitches beautifully, and felted projects that turn into sturdy creations.
Description: Bernat Velvet is an ultra-soft, plush chenille yarn that feels luxurious against the skin. Its rich texture adds a touch of elegance to projects.
Best Suitable for: This yarn is fantastic for creating soft blankets you won't want to leave, luxurious home decor like throw pillows that add sophistication, and cozy wearables like scarves and hats with a plush look.
Description: Lily Sugar 'n Cream is a durable 100% cotton yarn known for its vibrant colors and absorbency. It's great for projects that require cotton yarn with a wide range of shades.
Best Suitable for: This yarn is perfect for making functional dishcloths that are absorbent and easy to clean, summer tops with a breathable and cool feel, and colorful home accessories like potholders and coasters.
Description: Caron Cakes is a self-striping yarn with beautiful color transitions in various fibers. It's a fun and creative yarn that adds visual interest to projects.
Best Suitable for: This yarn is fantastic for creating gradient-effect shawls with captivating color changes, colorful scarves with a unique look, and blankets that showcase the self-striping design for a stunning effect.
Description: Berroco Vintage is a worsted-weight blend of acrylic, wool, and nylon that combines practicality with a classic feel. It's known for its softness and ease of care.
Best Suitable for: This yarn is an excellent choice for timeless sweaters that are both comfortable and stylish, versatile accessories like hats and mittens and comfortable garments that you'll enjoy wearing for various occasions.
Description: Cascade 220 is a well-known 100% Peruvian Highland Wool loved by knitters and crocheters alike. It's a workhorse yarn with many solid and heathered colors.
Best Suitable for: This yarn is ideal for high-quality sweaters with excellent stitch definition, classic cardigans that never go out of style, and beautifully textured knitwear that showcases intricate patterns.
Description: Malabrigo Worsted is a hand-dyed, soft, and luxurious 100% merino wool yarn with stunning color variations that create depth in your projects.
Best Suitable for: This yarn is perfect for creating artistic shawls that showcase beautiful color shifts, elegant garments that feel incredibly soft against the skin, and statement pieces that are as unique as they are comfortable.
Description: Debbie Bliss Baby Cashmerino is a delicate blend of merino wool, microfiber, and cashmere, known for its softness and luxurious feel, making it perfect for baby items.
Best Suitable for: This yarn is lovely for creating luxurious baby clothes that are gentle and cozy, delicate blankets that are perfect for newborns, and charming accessories with a touch of elegance.
Description: Rowan Kidsilk Haze is a fine and versatile blend of mohair and silk, known for its ethereal halo and delicate appearance.
Best Suitable for: This yarn is ideal for creating lightweight and airy shawls with a delicate, feminine look, delicate lacework that showcases the fine fibers, and elegant evening wear that adds a touch of sophistication to your wardrobe.
Tips And Tricks To Crochet With Different Yarns
Venturing into the varied world of yarns can be both exciting and challenging. Each yarn type brings its distinct characteristics, requiring a nuanced approach for optimal results in crochet. Here are some tips and tricks tailored for different yarn types:
Acrylic: Acrylic is slippery; hence, ergonomic hooks can provide a better grip. They're also melt-prone, so avoid high heat when washing or blocking.
Cotton: Cotton lacks elasticity. To prevent hand strain, maintain a relaxed grip and avoid over-tightening stitches. Wet blocking works best to shape cotton projects.
Wool: Wool is elastic and forgiving. However, you can feel it with agitation and heat. Hand wash gently in cold water and lay flat to dry.
Bamboo: Its silky nature can be slippery. Using wooden or bamboo hooks can offer better control. Bamboo benefits from gentle washing, as it can lose strength when wet.
Alpaca: Alpaca can stretch with wear. It's advisable to make swatches and, if necessary, go down a hook size to achieve a firmer fabric.
Bulky & Super Bulky: These yarns work up quickly. Using larger hooks can aid in maintaining a soft, durable fabric. Ensure stitches are consistent to prevent holes.
Mohair & Other Fuzzy Yarns: These can be challenging to frog (undo). Work patiently, and avoid ripping out stitches aggressively.
Projects To Practice With Different Yarns
Key Takeaways
Navigating the crochet world requires understanding the intricacies of yarns, each bringing unique attributes to the crafting table.
Acrylic is versatile, cotton offers breathability, and bamboo boasts a silky texture. Wool provides warmth and elasticity, and alpaca can stretch with wear. 
Special techniques, like using specific hooks or adjusting tension, can optimize the crafting process for each yarn type. To achieve the best results, always swatch before starting a project. 
Frequently Asked Questions
What's The Difference Between Uk And Us Crochet Terms?
The UK and US have different terminologies for crochet stitches, which can be confusing. For example, a UK double crochet (dc) is equivalent to a US single crochet (sc).
How Do I Determine If A Yarn Is Suitable For My Project?
Consider factors like the yarn's weight, texture, and recommended care. Checking the yarn label will also provide details about the gauge and recommended hook sizes.
Can I Mix Different Yarn Brands Or Types In One Project?
Yes, but ensure they have similar care instructions and gauges. Mixing different fibers can create unique textures and visual appeal, but be mindful of differences in stretch and drape.
How Do I Prevent My Yarn From Tangling Or Knotting?
Use yarn bowls or bags to keep the ball in place as you work. If using multiple colors, try the "bobbin method" by wrapping each yarn around its smallholder.
Why Is My Crochet Project Not The Same Size As The Pattern, Even Though I Use The Recommended Yarn And Hook?
Individual tension varies among crocheters. It's essential to create a gauge swatch before starting to ensure your stitches match the pattern's specified size. Adjusting hook size can help achieve the correct gauge.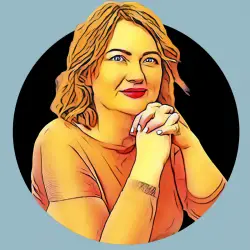 Latest posts by Sarah Reed
(see all)