Crochet sandals are the ultimate summer must-have – super cute, perfect to wear from the beach to the bar, and with so many options available you are bound to find the perfect pair with a bit of hunting in the shops.
Why not make them yourself? Check out these 17 crochet sandal patterns to find your next project!
Flip-Flop Upgrades
Looking for a new pair of flip-flops? This pattern is for a robust pair of flip flops that are perfect for wearing around the house or even outside, thanks to the jute sole.
If you want to add some crochet to your shoes but aren't sure how these embellished sandals are the way to go! Super simple and quick to do, all you need is a pair of flip-flops, some yarn, and whatever embellishments you fancy.
RELATED: Fun Amigurumi Turtle Patterns That You Can Download And Make Right Now!
These are a step up in difficulty from the other embellished flip-flops, transforming your old flip-flops into chic boho sandals. They will most definitely add some crochet-sparkle to your feet!
Whip up these crochet flip-flops in no time at all for a burst of cheery summer color. Be sure to use yarn that is durable enough to cope with all the wear and tear that sandals go through – these sandals are so cute you won't want them to break at all!
If you want to upcycle your flip-flops to unrecognizable levels, try these moccasins. The pattern comes with a free video tutorial so you will have no trouble creating your very own boho shoes.
Indoor Sandals
These strappy sandals are the perfect solution for feet that are too hot for slippers in the house during the summer. The cute gladiator design screams summer so opt for bright colors for a daily dose of happiness! Just be sure to add something with traction to the underside.
These slipper sandals are sturdy but provide enough comfort for all-day wear. You can of course attach a sole so they can be worn outside but they are perfect for days that you don't feel like getting dressed and leaving the house! 
Crochet Sandals
Looking for something more ornate? Try these sandals with flower motifs, with available patterns for shoe sizes 6 to 11. The wide straps on these sandals provide good support and all-day comfort, as well as incredible durability. 
RELATED: 13 Stunningly Beautiful Hooded Scarf Crochet Patterns
Fulfill all your 1970s fashion dreams with these chic boho-inspired sandals. Perfect for adding a touch of vintage sophistication to your summer outfit, these sandals are bound to become a favorite in anyone's wardrobe.
Want to upcycle your old flip-flops? You absolutely need to check out this design from Make and Do Crew. These sandals are the ultimate DIY upgrade and only take a few hours to knock up, providing a bohemian zing to your footwear.
This pattern makes summer sandals in toddler sizes, all the way up to a women's size 11. Did someone say matching family footwear!? There is even a video tutorial available for those who struggle to visualize written patterns.
These sandals are ideal for those who don't like getting sand in their shoes, but equally hate going completely barefoot. The dragonfly detail adds elegance to the overall design, perfect for dressing up your feet for a day on the beach.
RELATED: 15 Brilliant Crochet Baby Yoda Patterns (With Pictures)
Baby And Children's Crochet Sandals
These children's barefoot sandals are the perfect way to boost their imagination and stimulate creativity, perfect for young minds. They also look really sweet, perfect for parents! You can easily customize the length of the strap too, meaning kids of all ages can have a pair.
Keeping on the barefoot sandal theme, why not try these super cute flower accessories? 
If your little one is a bit older, make these flower chain barefoot sandals so they don't feel left out! The length of the straps is easily adjustable to fit a child – or adult – of any age. Opt for cheerful colors to reflect their inner garden fairy!
RELATED: Crochet The Amigurumi TikTok Bee
Nothing is cuter than baby feet in baby shoes, especially baby feet in these baby shoes! This pattern is super simple and can be made with whatever colors you have at your disposal. With a single strap design and button finish, these sandals will be easy to get on even the squirmiest of toes!
Frequently Asked Questions
Will The Yarn Rip Through The Soles Of My Flip-flops?
Most crochet shoe and sandal patterns suggest using an old pair of flip-flops as a base so they can be worn outside. You simply make holes in the top of the sole and crochet through them. This is by far the most difficult part about crocheting footwear. Once you have got the first row through the holes, the tension of the yarn is evenly distributed and so the chances of the holes ripping open are very low.
Why Is My Yarn Ripping Through The Sole In My First Row?
When using flip-flops as a sole for your crocheted shoes, you need to make sure that you are using as small a tool as possible to make the holes that you eventually crochet into. If the hole is too big then there will not be enough strength in the sole to cope with crocheting or with wear.
You also need to make sure that you are leaving enough of a gap at the top of the sole before piercing so aim for ¼ inch or more.
You should also use a small crochet hook for the first row where possible to prevent tearing or weakening the holes you have made. Once the first row is done, the tension from the yarn will be evenly distributed so you can move onto the proper hook size.
What Should I Use To Make Holes In The Flip-flops?
Really, you can use anything that is narrow and has enough of a point. Clay modeling needles are quite good, as are small leather awls. If you don't have these types of tools you can always try a small drill bit or a knitting needle. Just remember to be careful and not to poke into yourself!
What Yarn Do I Use For My Crochet Sandals?
For crochet, you can sort of use whatever yarn you like as long as you make any necessary adjustments to the pattern. Crochet is your hobby and a chance to experiment with your own creativity so go wild! 
Try to opt for a durable yarn where possible for shoes as you will be wearing them. If you like warmer shoes you can always go for some wool – it has insulating properties and is antimicrobial to reduce foot smell!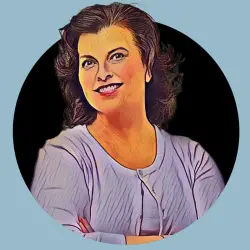 Latest posts by Amanda Brown
(see all)