Whether you're new to the world or crochet or just starting out, eventually you'll come across a Granny Square. Though it may just sound like something knitted by your grandma, it's actually the name for a particular crochet pattern.
A Granny Square is the name given to a pattern produced on a square fabric. The pattern is made by working in rounds from the center, moving outwards. It's such a beautiful and popular pattern that there's actually a whole day dedicated to it.
That's right! Granny Square day is celebrated by crocheters all over the world on August the 15th. Below we have 21 of the best Granny Squares patterns, turned into fantastic pieces, for you to try making!
First up we have the market bag pattern. This crochet not only looks fantastic but would also make an excellent, environmentally friendly, reusable bag.
The best part is that if it's ever dirty, all you need to do is throw it in the wash! Take that Gucci.
Thinking of an affordable baby shower gift? Want to make something for your own little one? Or even just want a nice cozy blankie for comfort?
Don't worry we're not judging. Here, try this colorful pattern.
RELATED: Fun Amigurumi Turtle Patterns That You Can Download And Make Right Now!
Ever seen a necklace and thought, hey that's nice but wouldn't it be better if it was MADE OUT OF WOOL?? Clearly someone did. Then they went and made the blueprints for it so you don't have to!
Okay we won't lie, this one actually looks pretty cool. The great thing about crocheting is that it produces some of the most beautifully designed shirts, and this fringe top is a prime example of that.
Following on from that thought, we have a blanket cardigan pattern. Designed by HanJan crochet, this humble little cardigan actually began as a blanket, hence the name.
Since it was designed as a blanket first, it follows the easy crochet steps to make a blanket and then uses effortless stitches to give form to a very warm cardigan.
Now stay with us on this; crochet backpack. It might not be the best idea in the rain, but for waterless weather it's perfect. Cute looking, stylish, and expandable.
Because of the fabric this backpack stretches with the things you put in. That means there's no more worrying about how you'll fit things.
The great thing about the material most crochet patterns are made from, is that they're thick enough to be heatproof. This means they make excellent pot holders to protect your hands.
As well as looking pretty, they'll keep you safe from any burns. And bonus points for the fact that they're so easy to make.
Keeping you safe from heat is a nice trait but on the reverse, crochet does a super job of keeping your own heat in. Because of this, creating a crochet poncho for the winter is a brilliant idea.
Thick enough to keep you warm in the winter, but airy enough so you can flap it out in the spring.
RELATED: Easy Crochet Bookmark: Perfect Project for Beginners
You ever get tired of having to go out and buy the same, boring old bunting for a party, the type everyone usually gets?
Well we can guarantee that crocheting your own Granny patterned bunting is definitely unique enough to make people remember your party.
Don't fret, this design may look fancy but it still uses an easy design! Plus it's reusable and environmentally friendly which is always nice.
Headphones, keys, wallet, phone, god. There's a lot to remember to take with you before you leave the house. And stuffing it into your pockets is only so safe.
Women don't have that luxury (have you seen the size of their pockets?) and you always run the risk of losing things if you put them in the abyss that is a handbag.
That's why a crochet pouch is so handy. A small pouch to put all your little valuables inside, that can easily fit inside a handbag or a menswear pocket.
If you crochet there's a high chance you sew. If not, maybe you know someone who does. Sewing is great, except for when you put your pin down for two seconds and then suddenly it's disappeared.
We all have that fear of sitting down and finding it the painful way. This Granny Square pincushion is a much better solution and means you or your recipient will no longer have to live in fear of the loose needle.
Similar to a pincushion we have an actual cushion, designed for humans and not scary sharp mini-swords. Well, cushion cover.
Because of the way this is designed it's the perfect cover to slip elegantly over a guest cushion. Or even just any cushions that you want to jazz up.
Remember the 80s? They were such good times. And if you don't remember them then now you've made us feel old, are you happy?
You will be after crocheting this and finding out just why beaded curtains were all the rage back then. Doors will soon become a thing of the past in your house after trying out this retro design.
RELATED: Crochet The Amigurumi TikTok Bee
It is never too early to start thinking about Christmas. As much as we try to fight it, prepping for it gets closer and closer each year.
So why not be that person and start prepping now by crocheting a christmas bauble. These unique ornaments will make any tree look festive and can even make awesome stocking fillers!
Almost all lampshades are fitted onto a frame. If you take off the lampshade then you're left with an empty frame that you can decorate however you want, perhaps with crochet.
The cool part is that because of the holes woven into this design, it casts little dots of light over the room that give a starry, night sky effect.
Cropped jackets are making a comeback, in fact they're already back and in style. Most of the cropped jackets tend to have that leathery, biker look nowadays.
So crocheting your own one with a beautiful floral design like this, is a great way to stand out from the crowd. And it is much more cost effective as well.
One of the easiest things to knit is a scarf. The same applies for crocheting. It's because of the simple shape. But don't be fooled, simplicity doesn't mean boring.
This crochet scarf weaves together beautiful, bright colors that pop when they're around your neck, and keep you nice and toasty.
Every back to school or work season you see the same pencil cases going round. And then they break, because these things are designed to break before the next season so you have to buy another one.
Or get lost because they're too generic to remember. So if you crochet one, you combat both of these.
You won't forget a pencil case you spent hours learning the design to and crocheting with your bare hands.
Plus think of how smug you'll feel when everyone asks where you got it from and you can reply, actually I made it.
RELATED: A Guide To Making The Famous TikTok Bumblebee – 3 Different Sized Crochet Patterns
Pretty much any kind of jewelry can be crocheted. And they should. These bracelets are super easy to make. If you suffer from any kind of allergies to the metal that jewelry usually contains, then this is a great alternative.
Perhaps the funnest things to crochet are animal toys. You start with just some wool and then by the end of it you have a cute furry friend!
Who wouldn't want to make these? They make purrfect gifts and you'd be lion if you said they weren't cute.
We've saved the most practical for last. Fingerless gloves are so easy to crochet because the pattern doesn't require you to fiddle about and make the actual fingers.
These fingerless gloves are well designed and easy to follow, and because they far up the wrist they'll definitely keep you cozy.
Frequently Asked Questions
Need a little more help with crocheting? Not to worry, below we've got the answers to some of the most crocheting questions.
How Do I Learn To Crochet?
There are so many youtube tutorials, apps, and step by step guides out there to help you on your crocheting journey. Even more advanced users could benefit from learning new techniques too.
To get started we'd recommend using the 7 day learn to crochet challenge. It breaks down the fundamentals of crocheting for you!
How Do I Read A Crochet Pattern?
It can feel like reading another language when looking at a pattern, particularly because of the abbreviations. To make reading a pattern easier, learn the terminology first and then it'll come naturally.
Are Crocheting And Knitting The Same Thing?
No. Because they can both use the same material, wool or yarn, many people often get confused between knitting and crocheting and think they're the same thing.
Knitting uses needles, crochet uses hooks, and the kind of patterns each produces differ from one another.
What Do You Use For Crocheting?
For crocheting, you have to use crochet hooks. These hooks come in many different shapes and sizes that will affect the kind of pattern you are making. If you haven't got any hooks, here are some we'd recommend.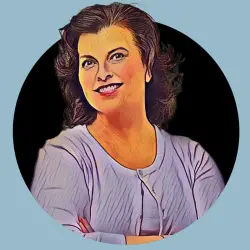 Latest posts by Amanda Brown
(see all)