There's not a person alive who doesn't have a preference on what kind of blanket is their favorite, there are moments in our lives where you wouldn't think a blanket could be so significant but they're more sentimental than we realize.
We associate them with winter and cozy days by the fire, we bring them out during those dreary days where all we can do is watch the rain pour. We bring them out when a friend is in need and all they want is a hot drink and some comfort. 
They're more a part of our lives than we think, and as you're looking for a cable blanket crochet pattern to create a blanket that will in the future harbor so many memories, we're here to help you on your way and track down the pattern that works for you!
If you're looking to not overcomplicate things regarding your blanket, then try the mountain range scarves blanket crochet pattern as it's the perfect option for the outdoorsy wilderness hikers out there, or for someone who enjoys new ideas and wants to incorporate their blanket with a scarf for a multipurpose item! There are 4 types of scarf patterns in this pack, including Blue Ridge Mountain, Elk Mountain, Rocky Mountain, and White Mountain, so enjoy!
We've found you beginners out there a fairly suitable easy beginners crochet blanket pattern so you can ease yourself into the world of crochet, without the initial panic of the question 'What am I doing?'. It's a simple 2-row repeat pattern, so once you get the hang of it within your first or second attempt, there's not much else you need to think about whilst making it, just let your hands work away! It also doesn't take too much yarn either!
This beautiful Celtic cable crochet blanket is the piece de la resistance of cable blanket patterns. You won't quite find anything like it in anything else as it contains rich textures of cables, lace, and twists. It's a work of art in a blanket and anyone who can make it will have a piece of art in their lives forever. The pattern includes both a written pattern and a stitch diagram of each cable motif to help you.
RELATED: 15 Crochet Ideas To Make At Home
Another chunky yarned Celtic cable dream blanket coming your way with this crochet pattern! The main Celtic motif is mesmerizing and makes up for a rewarding throw or blanket for you to enjoy. Celtic motifs amongst blankets keep traditions alive through craft, this particular Irish cable motif is visually older than you may think and is worth displaying in your home. Any opportunity to enforce a tradition as beautiful as Celtic patterns is worth the effort!
The great thing about cable crochet blankets is that you can make them to your own size preferences, if you wanted something doubled in length or width, you can do that. This heritage cable crochet blanket pattern is a fantastic easy option that requires you, a yarn of your choice, and a hook of your choice. If you're looking to make a blanket with what you've got lying around in your yarns basket, use up those leftover yarns and create a unique zero-waste blanket.
It's simple, it's easy, and it's the blanket you want in your closet this winter so get your yarns and hooks ready to create this nostalgic dream of a blanket. The couple crochet chunky throw is one we all want in our lives and there's nothing better than wrapping one like this around you on a freezing evening by the fire. It's crocheted using 4 strands of acrylic yarn held together as one and the pattern has been made easy to follow so the stress of reading patterns is totally erased.
This subtle 'zig-zag' herringbone textures limestone throw is a classic cable blanket pattern that can be made easy from beginners to advanced crochet makers. It's a blanket that immediately adds warmth to a room and has this calm and comfort-enhanced feeling to it, leaving you feeling at ease even in your most stressful moments. Like we said at the beginning of this article, blankets leave a mark in our memories for years to come. Maybe this one calls to you?
Speaking of how blankets can be a piece of art in themselves, why not take this literally and create an artwork that no one else has on your cable crochet blanket. This pattern gives you the ability to experiment with the borders of what defines a crocheted blanket today and what it can mean for you! Art is limitless and you define it through your hands and what they create, so if crocheting a woodland motif feels right to you, trust your instincts!
RELATED: 13 Stunningly Beautiful Hooded Scarf Crochet Patterns
We love a crochet cable blanket with a personal touch in the details, this blanket has been given a unique name that plays on the words "Anne of Green Gables", the pattern maker has subtly encouraged any crochet maker to add this touching sentiment to their own blankets from giving a name and backstory to their pattern available to you. Maybe this is an opportunity to consider what your crochet blanket means to you as it's a craft that came from you alone, it deserves its own legacy that starts with you, the maker!
This cable crochet blanket is perfect for traveling with, you can take a piece of home with you wherever you go with the Afghan vintage fisherman blanket that truly brings a sense of comfort. This pattern uses beautifully interwoven cables to create a one-of-a-kind crochet blanket that you must be itching to try!
Any blanket pattern with the word braided in just sounds so sweet and has a tendency to be a reminder of all the braided plait styles you spent hours learning as a child for your friend's hair and your own. It's a nostalgic crochet blanket that is certain to bring back a memory or two. In this pattern, 2 Saxon cables are braided together to form an elegant design.
We know what you're thinking, does this crochet cable candlestick blanket pattern actually look like a candlestick? Yes, it does. We love this play on using cable twists and diamonds to create a textured design that looks like candles on a blanket! It screams winter and seasons greetings and is such a well-written pattern to follow.
RELATED: 13 Stunningly Beautiful Hooded Scarf Crochet Patterns
Fancy discovering an addictive new cable blanket pattern that will have you gift-making for weeks? This pattern is the one and is so simple to follow along with whilst doing other tasks. Whilst crochet does require a lot of concentration, this pattern allows you to multitask well, as long as you know what you're doing of course.
If you want a timeless treasure of a crochet cable blanket to add to your collection of throws and blankets, try this pattern and share with friends to enjoy a crocheting day together, or if you're a lone wolf, spend some quality time treating yourself as this unique combination of latticework, cables and crossed stitches creates a blanket you can cherish for years to come.
We love to provide you with the means to create something different and one of a kind, so why not take your chances with this three-toned cable crochet blanket pattern that you can customize with any three colors you fancy. Imagine the endless possibilities! It's any color enthusiast's dream blanket to crochet. Is the Napolean cable blanket for you?
Making baby's blankets of their own will always be the most precious gift of all time, so why not join in and make a baby in your life this adorable cable-crocheted blanket in the softest yarns out there to introduce your niece or nephew to the world of blankets. This may be the gift that they keep with them into adulthood, and imagine being the person who made it for them specially.
RELATED: Fun Amigurumi Turtle Patterns That You Can Download And Make Right Now!
We've got a wonderful suggestion for you with this patchworked crochet cable blanket pattern, how does using some beautiful cable techniques to make a patchworked dream of a blanket sound? If you're on board then it's a brilliant way to make a zero-waste sustainably friendly blanket option. Use up all your mismatched yarns to create something designed to be a mismatched beauty.
What's better than making your own cable blanket for those all-day rainy days wrapped up with your favorite hot drink? Doing all this with an added cushion cover to match your blanket that you made yourself! Anything that matches aesthetics well is always a pleasing challenge to take on.
Have you ever been to your grandparent's home and caught sight of what feels like a thousand cable blankets thrown around the house? They're popular amongst any age group and make for a fantastic movie day whilst maintaining that nostalgic feeling of spending time with loved ones.
This pattern isn't just unique for being a cozy cable crochet blanket, the pattern on request can be easily adapted to m=be made smaller or larger if that's an issue you're finding with your blankets. Kindness goes a long way and a personal quality like this is commendable and worth the effort so spread the love and try this pattern out for yourself.
RELATED: Easy Crochet Bookmark: Perfect Project for Beginners
Being a beginner at crocheting blankets isn't easy, the frustrations and struggles are relatable and because we understand the struggle is real, we've found this beginner-level cable crochet blanket that still maintains an interesting design to keep your mind busy and satisfied. And the color choices are endless so get creative!
This yellow diamond cable blanket features modern crochet cables throughout that create a more simple look than appearances would suggest. It looks more advanced than it is and if you want to impress the family with your newly learned crocheting skills, try out this pattern for yourself and be amazed at your own skills come to life!
We recommend trying this duo DIY project to create a matching throw and cushion cover set for your living room. Any opportunity to create a two-in-one set without more effort than needed is a success in our books! And making this yourself is the most rewarding experience.
Frequently Asked Questions
Can You Make A Cable Blanket For Every Season?
There are so many cable crochet blanket patterns available that we are certain there's one for every season and more! Trying out different color combinations with cable-style blankets is a fantastic way to find out what kind of seasonal blanket you want.
What Are The New Stitches In Crochet Cable Blankets?
The front post treble crochet (FPTC), and the back post double crochet (BPDC) stitches are the newest stitches you may find you may want to use for your own cable blankets. But feel free to experiment on your own terms.
Are Cable Blankets Easy To Crochet For Beginners?
Beginners will find that cable stitch is very popular to use when you are new to crocheting your own blankets, especially if the patterns are larger and may take more time to get the hang of, but once you've tried it, you'll get it in no time at all.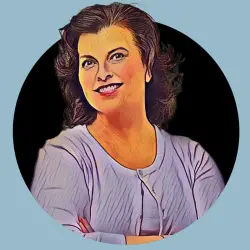 Latest posts by Amanda Brown
(see all)