One of the best things about learning to crochet is that you will never have to buy boring, ill-fitting clothes off the rack again.
Why? Because there are thousands of creatives like you out there who have put together a whole range of gorgeous crochet patterns that will allow you to make clothes that suit you and fit you perfectly.
If you are suffering from a case of cardigan-related FOMO (fear of missing out) then you have come to the right place. Here are 35 crochet cardigan patterns that are going to rock your world.
If you are looking for the perfect long, casual, and slouchy cardigan then look no further than the Rosewood Cardigan. This is a thigh length cardigan with big pockets, a sophisticated collar and is perfect for crocheters of any skill level.
The pattern comes in 8 different sizes and is easy to customize further if you have a good grasp of sizing theory.
Here is a more graceful take on the long cardigan. This piece is perfect for semi-formal events like a day in the office, a dinner party, or a girls' night in.
We love the loose stitches on this cardigan that make it perfect for any weather – as a stand-alone cardigan or part of a layered ensemble. And the cuffs on this garment are to die for.
This piece is the definition of a cool, modern cardigan. We love how this pattern uses chunk wool to create a breathtaking silhouette that would look good in any color.
If you like to follow video patterns then you are in luck, because the designer has provided both written and physical instructions for this piece.
Cardigans are finally coming back in style for men, so why not treat the special man in your life to a handmade cardigan. This pattern is so stylish that any man will be happy to wear it around town.
This cardigan is the perfect project for any beginners who are looking to sink their teeth into their first full-time piece of clothing. Bonus, it will look great in any color.
Alpine stitch used to be the bane of our lives, but once we mastered it we became obsessed. If you're looking for a project to show off how great this stitch looks, this cardigan is perfect. This is also the ideal cardigan if you're looking for something to snuggle up by the fireside and read a good book in.
Things we want – a rainbow cardigan, a cozy cardigan, and a cardigan that will use up all our leftover pieces of yarn. If only we could find the perfect pattern… oh wait, we did and it's this pattern.
If you have a range of yarn cakes (half used spools of yarn) lying around then you can make some more space in your home and this beautiful cardigan at the same time. Win-win!
RELATED: 17 Different Types Of Pleats For Skirts And Dresses
Why do children get all the coolest clothes? We ask ourselves that a lot. If you have any little ones in your life, this would make such a great gift.
However, if you think we're not going to size this up and make one for ourselves, then you don't know us at all.
If you are looking to bring a little bit of class to your wardrobe then you cannot go wrong with this lacy cardigan pattern.
The author of the pattern suggests making it in a delicate cream color. We will be making one in cream, and maybe one in blue, and one in violet, and one in a pale rose, and one in… well you get the idea.
If you need a cardigan that is cozy enough to get away with wearing on Christmas Morning but is fashionable enough to run out to the store in, when you realize you need to buy more wine – this is the cardigan for you.
We would just like to note that we are enamored by the color of the yarn the designer used in her example. Does everything look better in turquoise?
We're not ones for hyperbole, but this may be the cutest cardigan pattern that we have ever seen. We love how it perfectly straddles the trends of the 90s and the 2020s with its cropped waist and bell sleeves.
What we love most about this pattern is that it looks gorgeous as both an oversized piece and a true sized piece. You can't stop us from making one in every color.
Any crochet (new or old) will be aware of the wonders of the Granny Squares. Making Granny squares is a great way to practice your hook work and to improve your crocheting skills.
This pattern makes the best use of these Granny Squares that we have seen in a long while. We can't wait to make this for ourselves and wear it around town.
We challenge you to find a better cardigan pattern than this – it's easy to make, easily customizable and it's covered in adorable strawberries. What more can you want from a cardigan?!
You can also make kiwi versions of this cardigan.
If you are a fan of geometric patterns and hoods, then do we have the cardigan for you!
This easy, breezy cardigan is perfect for summer nights spent around the campfire and roasting marshmallows. But this cardigan is also so beautiful that you should wear it during the day too so that you can show it off.
This is another trendy cardigan that we just can't get enough of. It is a thick cardigan made of an easy stitch that will keep you warm and it is just on the right side of cropped to work with high-waisted jeans.
This cardigan also doubles as a wrap with its front fastening. The fastening is also crocheted so you don't have to buy any other equipment to make this delightful piece.
This Mallory Stripped pattern gives a whole new take on the concept of stripes. It somehow makes them look natural and like all the different colors just flow seamlessly into one another.
This is perfect for anyone who is bored of traditional stripes and wants to try something new and a little more interesting.
Have you ever looked at a leather duster and thought, "that would be so much better if it was purple and made out of yarn"? Well, if you have, then check out this pattern for a crocheted take on the leather duster.
This piece is calf-length and sits perfectly on the shoulders. Did we mention that the design includes fitted, rolled cuffs as well?!
Here is yet more proof that little ones get all the best clothes. This cardigan is as practical as it is adorable. It comes with buttons that stay put (so the little one can't wriggle out of it) and it's super cozy.
The pattern is designed to make a little brown bear, but we also think that making a polar bear, a red panda, or a carebear version of this cardigan would be adorable. There are so many possibilities with this pattern.
This is another great option for the men in your life. This cardigan is the right mix of stylish, cozy, and practical. It will put a smile on the face of anyone who gets this as a present.
Why not make this cardigan in the favorite color of the person you are giving it to. And don't forget to make a version of it for yourself.
This is a must make cardigan for any of the adventurous young girls in your life. It's got pockets for storing all the treasure they find while they are exploring and it has got fitted sleeves, so they won't get too dirty.
How does such a simple pattern end up looking so good and really sophisticated? We're not sure what witchcraft was used to create this pattern but we do know that it's working.
If you have a few yarn cakes (partly used spools of yarn) lying around at home, this could be the perfect cardigan to use them up in.
If you live in a hot or humid area then you are going to need to start making yourself a short sleeved cardigan immediately. We're definitely going to make ourselves at least one of these for this Spring.
This is a pattern that beginners will want to save in their bookmarks for later. However, if you are an intermediate or advanced crocheter then put this project at the top of your to do list.
RELATED: 15 Crochet Ideas To Make At Home
Cozy meets military fashion – this sounds like it shouldn't work but it really does. You will need to pick yourself up some good looking buttons if you want to make this cardigan.
But looking through the 1000s of different types of buttons out there will be worth it when you put this on for the first time.
Sometimes you just want your baby (or your friends' baby) to look like a diva. And at that moment, the baby will need this cardigan.
This cardigan does everything a good baby cardigan needs to do – keep the baby warm, stay securely on the baby, protect their delicate skin.
And, this cardigan does all of that while making sure the baby looks absolutely fabulous. You might want to pair this cardigan with a pair of baby sunglasses.
We are fully aware that so far, this list has included a woeful amount of chunky cardigans. Therefore we have included this fine piece to rectify that.
This cardigan is cropped so it will fall just above the waist. It comes with two beautifully bobbled sleeves and is perfect for crocheters of all skill levels.
We love cardigans that appear simple at first glance, but reveal some hidden details when you look a bit closer.
This is a cardigan that does just that. It is best that you only try this if you are an intermediate or above crocheter, but it is more than worth the effort.
If you don't like the length of this piece then it is easy to adjust it and make it thigh height or even cropped.
This is a modern take on a classic cardigan. Cable patterns have been in and out of fashion over the last few decades, but they are really having their moment right now.
This is slightly more cropped than the classic cardigan, making it more flattering to the figure despite being a very chunky pattern.
If you are looking for a cardigan that doesn't play by the rules and isn't afraid to be different – then check out this Braid Cardigan pattern.
This cardigan sits halfway between a shawl and a cardigan but still manages to look good while doing so.
This is a perfect addition to an outfit when the temperature starts to drop after a warm sunny day.
This is another cardigan pattern that attempts to make Granny Squares cool again – this time using the power of sunflowers.
This is a perfect gift for any summer lovers in your life or for anyone that wants to run away and live in the woods. Or maybe you should make one for yourself as a treat.
Now, if you are interested in making yourself a retro cardigan then you should start with this mod-style slip-on cardigan. This cardigan captures the retro vibe without being too kitsch.
It is a light cardigan, with wide stitching which makes it the perfect addition to any spring outfit. For that reason, we think that this piece would look great in any light and bright spring colors.
This is going to be a crochet pattern that you will want to tackle if you are an intermediate or expert crocheter. Why? Well just look at the gorgeous stitches that have been used to create the back of this cardigan.
Once you have perfected this stitch, you are going to want to use it every single one of your upcoming projects.
This is the type of cardigan that is going to make you feel powerful while you are wearing it. And that is the best type of cardigan.
This cardigan perfectly walks the line between business and pleasure, with a little bit of "cool librarian vibes" thrown in there for good measure.
We love this cardigan in grey, but we also think it would look spectacular in a deep crimson.
If you really want to channel the 90s or early 00s, then you will need to make yourself this cardigan stat!
We love everything about this cardigan – the long sleeves, the intense crop, and even the little bow that sits perfectly on top of the clavicle. This pattern is adorable and we can wait to make it for all the trendy people in our lives.
We know that we have already put a few rainbow cardigans on this list, but we couldn't resist just one more. It's the last one, we promise.
We really love the shape of this cardigan – particularly the squared collar and the way the stripes on the arms and shoulders meet.
If you're looking for a cardigan to add a little sunshine to your day then you will need to make this pattern for yourself.
RELATED: 15 Brilliant Crochet Baby Yoda Patterns (With Pictures)
This is the perfect oversized cardigan. It's simple but elegant. We don't really need to say anything more.
We are not sure how we made it to number 35 on this list without including a single tassel. Well, we are making up for it with this boho take on the duster cardigan pattern.
This pattern is perfect for frolicking through the fields or for living your best life on the beach. You know while you are wearing it, you are going to have a good time.
Frequently Asked Questions
We get asked a lot of questions about the world of crocheting, so we thought we'd share some of our most valuable answers with you today.
Where Is The Best Place To Learn To Crochet?
There are many different ways to learn how to crochet.
Many crafting websites offer paid courses that will teach you the new skill from scratch. You may also find that your local yarn shop offers paid lessons as well.
There are many older books that will teach you how to crochet, however, this has gone out of fashion now.
We have found that the best place to learn how to crochet is Youtube – there are thousands of free tutorials on the website made by experts and amateurs alike.
Is Crochet The Same As Knitting?
Crocheting and knitting are not the same things. Crochet is done with a single hook, while knitting is done with two needles.
That is not to say that you can't learn to knit if you crochet and vice versa. If you already know how to knit then you will find crochet pretty easy to pick up.
What you should note is that crochet patterns cannot be used for a knitting project and you cannot use knitting patterns for crochet projects. You will need to go and find the right pattern for the type of yarn work that you are doing.
Why Are My Edges Uneven?
Firstly, if your edges are uneven, don't worry too much about it. This happens to all beginners and it is part of the process of learning how to crochet.
Now, let's look at why your ends are uneven – you are either adding stitches, skipping stitches, or changing your tension from line to line.
You can fix the first two problems by using stitch markers to guide you while you are crocheting. Sadly, getting consistent comes with practice and can sometimes take beginners a while to get the hang of – you just need more practice!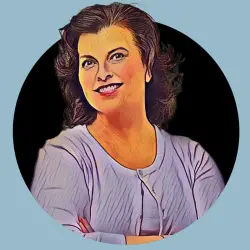 Latest posts by Amanda Brown
(see all)