Whether you are just starting out on your crocheting journey, or are a seasoned crocheter with tons of experience under your belt, scarves make an ideal crochet project.
They can be as simplistic or intricate as you like depending on the pattern you choose, and can therefore suit crafters of all levels.
You can also tailor the length very easily to make your scarf as long or short a project as you have time for. What is more, scarfs make wonderful gifts for friends and family, and can even be a beautiful gift to yourself!
So, if you need some inspiration as to how you can keep your crochet hook busy this season, here are 31 of the most beautiful crochet scarf patterns available on Etsy today.
To start us off, here is an excellent pattern that is suitable for beginners. Even the most novice crocheters will be able to take on this project and feel very proud once they've completed it.
The scarf is often a project that beginners enjoy because the rectangle shape is pretty straightforward and the repetition of one stitch means that there is great opportunity to practice and improve.
This pattern is very well written and easy to follow, with the rows and stitches all laid out clearly so that it is difficult to get lost. The weave itself is pretty tight, so it will really keep you (or the lucky person you give it to) warm and toasty.
We love the choice of multi-toned wool used in the example as it adds interest and intricacy to a very simple design. A great starter scarf!
If you have mastered the Kayson scarf pattern and still want something simple and easy to follow, then why not try the Rowan scarf next. It is also aimed at total beginners and makes a great first project for those who are just starting out.
The weave has a lovely plaited finish which gives it great texture and makes it look more complicated (and impressive) than it really is.
You will have all your friends and family asking for one of their own once they see this scarf, and luckily this pattern comes together very swiftly thanks to the repetition of the stitches so you will be able to make one for all the family!
The Rowan pattern is a brilliant confidence booster for anyone who thinks that they can't crochet – just give it a go and you'll see!
RELATED: Fun Amigurumi Turtle Patterns That You Can Download And Make Right Now!
This next pattern makes up a wider scarf that can be scrunched or doubled over to create lots of warmth around the neck, ears and chest. The pattern requires 3 skeins of medium weight yarn and a 5.5mm crochet hook to achieve the soft, cozy finish.
What is great is that it can be made with or without the fringe on each end depending on how long you want the finished article to be.
You can get as daring and inventive with the color as you like, although we love the neutral biscuity color used in the example photos as it is suitable for both men and women and will compliment any outfit.
This pattern comes together lovely and quickly once you have got the hang of the stitch, and better still, the owner is happy to take queries and give tips via email if you get stuck at any point!
Speaking of tips and advice, this next pattern comes complete with a video tutorial, making it a perfect option for anyone who finds written patterns confusing.
Of course, there is a PDF pattern with instructions and yarn suggestions, but the video tutorial takes you through the process step-by-step and has close-ups and audio description too.
For many people, this visual demonstration is far more enlightening than any written instructions could ever be and actually helps them to better understand other crochet patterns in the future.
Not only will your crochet technique and knowledge improve with this pattern, but you will also end up with a super trendy chunky scarf which is the perfect statement piece to jazz up any winter ensemble.
The loose weave traps loads of air and makes this scarf very insulating, and we love the autumnal colors that are demonstrated in the example photos. Win win!
If chunky and thick is not for you, why not try this beautiful, delicate braided scarf pattern? The pattern involves ever so slightly more stitches in order to achieve the defined braids (or cables) that run vertically down the design.
The addition of a front loop single crochet stitch before each braid requires you to concentrate and count as you create, meaning that this pattern is perfect for those beginners who feel ready to test and challenge their skills.
Although this is still classified as a 'beginner' crochet pattern, we would suggest it is best suited to a 'confident beginner' level.
The finished effect is beautifully detailed and textured, and it is best to use a single color yarn for this design in order to show off the intricacy of the stitch work to the maximum. The owner is happy to help and replies quickly if you contact her via the website.
If you are looking to make something more lightweight that can be worn in fall and spring as well as winter, then this gorgeous shell patterned scarf could be for you.
The pattern requires chain stitch, double stitch and slip stitch, and the overall effect is a scalloped and frilled finish that allows air to pass through it and that hangs weightlessly around the neck.
The owner has an 'ask Karen' button on her website and is more than happy to answer any queries you may have whilst making this beauty.
We absolutely LOVE the texture and look of this next pattern. The waffle finish can seem intimidating to some beginners, but once you have mastered the techniques and stitches then this scarf comes together pretty quickly.
The pattern even tells you when to switch colors to achieve the striking color blocking shown in the example pictures. The waffle squares are very eye-catching and make this scarf a level up from easier patterns.
If you are feeling up for a challenge that is satisfying and doable, then this is definitely the scarf for you.
If you have mastered the basics of crocheting and want to take on a project that pushes your skills to the next level then this set of 4 mountain range scarf patterns is ideal.
The cable stitching requires concentration and stitch counting as you work, and the range of 4 complimentary patterns means there is plenty of room to practice new techniques.
This set of 4 patterns is well worded and easy to follow, and is great if you have multiple presents to make for family members and want them to each be individual and distinct.
The final products are warm and textured and make great gifts for anyone who loves spending time outdoors.
RELATED: Easy Crochet Bookmark: Perfect Project for Beginners
If you are looking to create something seriously unique and memorable then the Bohemian Wrapsody scarf is definitely a winner.
This beast is 8 feet long and 1 foot wide once completed, and there is tons of room for you to get creative with color combos and clashes.
What makes this scarf pattern tricky is the varying tension of the different stitches. To create the squishy, bulky and multi-layered effect, so rows are taught whilst others are loose.
This can be tricky but results in a very distinctive and fun design if done well. We love the lime green accents that are used in the example photos, but you could use whatever colors you like to personalize this pattern.
In contrast to the wacky Bohemian Wrapsody pattern, this delicate neck warmer makes a beautiful gift for anyone who loves elegant and classic designs.
This pattern is pretty simple to make, and the addition of the edging elevates it and gives it a finish that is refined and detailed. The design can be made tighter or looser depending on where you position the buttons, so is very versatile and adaptable.
What is great is that this neck warmer can sit on top of your coat or jacket and be shown off, rather than being tucked in and hidden beneath a collar.
It has an almost antique feel to the design and is a very popular choice for older relatives and young children.
How about this awesome keyhole scarf pattern for a design with serious originality and versatility?! We can't get enough of this quirky keyhole scarf, as it really is like nothing we've seen elsewhere.
You will surely turn heads when walking about with this on, and will impress all your friends when you say you made it yourself!
The pattern is surprisingly easy to follow and complete, and the finished article can be worn in a number of cool ways, with the keyhole element thrown over the shoulder, down the back or draped down the chest depending on how you want it.
You can add a real design pop with the bobble and tassel to finish the whole thing off.
This next scarf pattern is highly Romantic and antique inspired in its design. The intricacy of the stitches gives it an almost Victorian feel, and is reminiscent of the shawls people would wear as they promenaded about the park.
The instructions are very well worded and easy to follow as long as you have some good knowledge of the stitches. The final garment works really well when wrapped around the neck and draped over the shoulders, and it provides ample warmth for winter walks.
The scalloped edges really elevate the design and mean that this pattern is most suitable for intermediate level crocheters and those with time to spare.
It makes a wonderful gift for someone special and can even double as a baby blanket for a newborn.
This Ashlea scarf pattern is a great choice for advanced beginners who are looking to try some more intermediate techniques. The scarf is wide and long, meaning it can be worn as a shawl, blanket or wrap around scarf.
The stitches require some concentration and deftness of touch, and the finished article is beautifully patterned and textured as a result.
We love the duck egg blue color of the yarn used in the example, but any color that expresses your personality (or the personality of the lucky someone you are making it for) will do.
This scarf can be made shorter or longer depending on what you prefer and how long you want to spend on it. A really versatile pattern.
RELATED: Crochet The Amigurumi TikTok Bee
An infinity scarf is a scarf without ends, which loop in a continuous pattern. Although it may seem complicated, it actually speeds up crocheting because there are no loose ends to tie up and secure.
The design works amazingly well when doubled over around the neck. You won't have to deal with flapping ends and flyaway scarfs with this beauty, and it looks pretty awesome too.
This simple pattern has a high impact because of the infinity element and the chunky weave. What is more, this pattern comes complete with crochet tutorial and high resolution photos that you can refer to as you go.
You are sure to love this pattern so much you will find yourself making it again and again!
Wow! This hooded scarf pattern is so quirky and unique, you are sure to delight yourself and others with the finished product. The pattern is aimed at intermediate level crocheters because there are a few tricky techniques involved in order to achieve this awesome result.
The hood element can be worn down the back for a slouchy feel, or over the head to keep your ears and scalp warm on cold winter days. The ribbed cowl has tons of texture and hangs so well down the front of the body.
This scarf can elevate any fall or winter outfit and is great to snuggle in by the fire as well.
The wavy effect of this next pattern is really mesmerizing and unusual. If you love a mermaid theme then this design will really sing out to you, especially in the gorgeous aqua colored yarn used in the example photos.
This scarf is small and medium-weight, making it an ideal stocking filler for Christmas. As it is only small, you could even make multiple versions in different colors for all the family.
The buttons can be as contrasting or complimentary as you like, depending on what effect you want to create. This is a highly elegant and stylish make that will wow whoever sees it.
Now for something really different! This beaded pocket scarf has novelty, warmth and texture. The beaded effect is simple to create once you master the technique, and it can be used on other crochet projects to give your makes more depth and texture.
The deep, chunky pockets on this scarf are not just great for keeping your hands warm on long winter walks, but also anchor the scarf whilst you wear it and provide a great place to store things. You can keep your phone in there, your keys, or even a water bottle!
The design is tailored to be narrower around the neck than it is at the sides. This is very clever and means that it sits beautifully across the shoulders.
It will make the most wonderful handcrafted gift for anyone this season.
For another unique twist on the basic scarf design, this Winter Wishes keyhole pattern is classic yet original.
The keyhole fastening draws the scarf neatly around the neck meaning that maximum warmth is guaranteed, and the button closure adds a burst of color right in the center of the design.
This pattern is advertised as Intermediate, but we think that advanced beginners could absolutely give it a go. The clean lines and simple finish make this a classy scarf that anyone of any age would be happy to wear.
Why not try adding a bit of bling by choosing a sparkly button, or adding a pop of color by choosing a clashing button?! The possibilities are endless with this nifty pattern.
RELATED: 15 Crochet Ideas To Make At Home
OK, we have looked at easy patterns, we have looked at intermediate patterns… Now it is time to add something really challenging to our list! This AMAZING fox head scarf is so eye-catching, unique and impressive, it will surely be the most incredible crochet project to take on.
The fox's head is actually filled with a clasp which can be depressed in order to secure the scarf around the neck. This is such an ingenious design idea and will wow friends and family. The actual body of the scarf is simple enough and we love how the whole scarf is turned in on itself for clean edges and a professional finish.
It looks so professional that you might actually have trouble convincing people it isn't shop bought! A great option for experienced crocheters looking for a fun challenge.
How pretty is this Celtic Diamonds scarf pattern?! The dizzying design is perfect for anyone who loves tradition and mysticism as it draws the eye and pulls on the heart strings.
We adore the multicolored yarn choice as it adds a fresh and bright twist on a very traditional garment, but this scarf would work beautifully in a block color too.
It really is reminiscent of something from an older world and is a great project for those who have a penchant for the pagan and are willing to weave their heart and soul into a scarf.
This lightweight, lacey scarf is a perfect choice for spring and summer. The open weave makes this garment beautifully breathable and works well as a cover-up on sunny days.
Bunched together and tied around the neck, it can also be worn as an extra layer in fall and winter, and will add an element of color and elegance to any outfit. The pattern is much more simple and easy to follow than the finished result would suggest.
The intricate lace-like design beligns a level of sophistication and class that any crocheter can be proud of, and it makes the most wonderful handcrafted gift for loved ones of all ages.
This set of 4 floral, botanical scarf patterns is just gorgeous. The four designs are complementary yet beautifully distinct and will give you plenty of chances to try new skills.
The flowers and leaves are incredibly delicate and detailed and elevate these scarfs to another level of sophistication.
There is so much room for you to add your own personal design touches and taste to these flattering and classic patterns and you are sure to be inundated with requests for more.
So there you have it! 22 amazing scarf patterns to tickle your crocheting fancy this season. There is something for everyone, no matter how new to the hobby you are, so pick up your crochet hook and have a go!
Frequently Asked Questions
What Is The Best Crochet Stitch For A Scarf?
The single crochet stitch is the most simple and easy stitch for making scarves. It can create a beautiful pattern very quickly and can be made tighter or more loose depending on what size hook you use.
However, scarves can be made using many different crochet stitches which all produce a different texture and finish.
What Is The Best Yarn Thickness For A Crochet Scarf?
DK weight, worsted weight and bulky weight yarn are all excellent choices when making a scarf. The final decision will depend on what kind of scarf you want to make and what season you intend to make it suitable for.
How Many Stitches Long Should A Crochet Scarf Be?
The average women's scarf is between 54 inches and 68 inches long (a man's is closer to 70 inches). The number of stitches will depend on how large a hook you are using and how thick a yarn.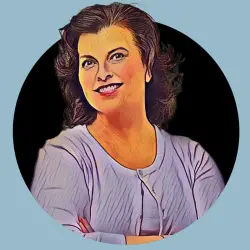 Latest posts by Amanda Brown
(see all)